I have long hair. It's in relatively healthy shape, despite all the bouts with lice it endured when my daughter was in elementary school. I took a hiatus from coloring it for ten years, I don't use after-shower hair products and I never blow-dry my hair (well, not including the professional ventures). I also don't wash it every day, more like two times a week. It just thankfully doesn't get oily, and even when I'm going to the gym daily, it doesn't get greasy. I'm lucky, I know, in this way.
I use a variety of shampoos and conditioners that I have on rotation. Here's what I am using, and have been, for years.
Davines' Melu shampoo is specially targeted for long hair, which works for me. It is not overwhelmingly fragrant, it's not gloppy, a little goes a long way.
When I use the Davines Melu Shampoo, I pair it with the  Davines Melu Conditioner. I don't do this with every shampoo/conditioner combo, but for the formulas that are specific for long hair maintenance, I feel like, why not. My hair feels soft, my hair looks shiny, my hair lasts quite a few extra days without needing to be washed again. Highly recommended.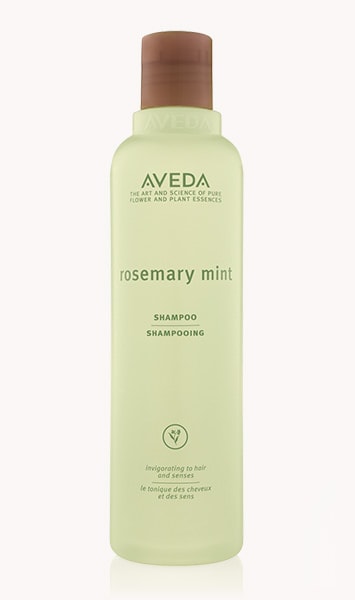 I can not emphasize how much I love the way the Aveda Rosemary Mint smells, across the board, from shampoo to body wash. And it does a really nice job on your hair, no matter what kind of hair you have.
I discovered the It's A 10 line while reading an article about a surfer! Yes! Women who spend all of their time in salt water know a thing or two about hair care, and so many of them swear by It's A 10. And so, now I do too. It's super fragrant but not in an offensive way, and it makes me feel like I too, could be surfing if I weren't afraid of sharks. Use the conditioner with any shampoo product, by the way. It's really versatile.
And so those are three of my go-to products. Instead of using a de-tangler, I reach for my brush, immediately upon stepping out of the shower. And there are only two brushes I am willing to use.
I'm very particular about what kind of brush I use on my hair. While I would love to afford the Mason Pearson brush, I just can't. I can however, invest the Aveda Paddle brush. With my long hair, I need a brush with bristles that are not going to snap, bend, or pull my hair, which by the way, tangles easily.
Even the Conair brush will be used on occasion. Because it's not out to get me.
And that's a wrap on what I use on my hair!